New Packaged Heat Exchanger Unveiled at AHR Expo in Las Vegas
KING OF PRUSSIA, Penn., January 4, 2022 – The Engineered Solutions division of Cooney Technologies is set to introduce the ultra-efficient Cooney Thermo-Pack at booth C3949 during the 2022 AHR Expo in Las Vegas, NV.
Offering heat exchange solutions for both heating hot water and domestic water applications, the Thermo-Pack utilizes shell & coil technology to subcool condensate and provide steam energy savings while reducing flash steam losses. The durable 316L stainless steel shell and coil heat exchanger subcools condensate to increase efficiency up to 15%. The sleek, vertical packaged unit allows for an easy fit into restricted spaces and mechanical rooms – and is customizable to fit any application.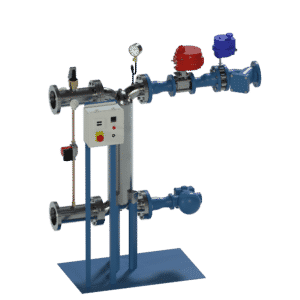 "A problem with traditional shell and tube heat exchangers is the large footprint they can take up in the mechanical room and the maintenance issues they pose when it comes to replacing tube bundles", states Rick Kobylinski, product manager at Cooney Technologies. "We've engineered our units with the best in shell & coil technology to reduce maintenance issues and save energy, all in a compact design"
Stop by the Cooney Engineered Solutions booth #C3949 at the AHR Expo to see how this packaged heat exchanger works, view customer projects, and calculate real-life steam and energy savings. Attendees will also be able to view a live demonstration of what happens when an HVAC coil freezes, and how Freeze Block™ coils and a Smart Coil system can help prevent freeze damage.
For more information on Cooney Technologies products, visit cooneyengineeredsolutions.com or contact Cooney Technologies directly at (610) 783-1136 or sales@cooneycoil.com.
About Cooney Technologies:
 What is now known as Cooney Technologies, was founded in 2009.  Innovation has always been one of the core principles of the organization. This passion for bringing simple yet innovative solutions to the HVAC industry was the primary driver in the creation of Freeze Block Technology and launched the Cooney team into the manufacturing environment.  The superstar team at Cooney Technologies continues to focus on providing quality and sustainable HVAC solutions through revolutionary innovation.
###