What is the True Cost of Glycol?

Glycol Freeze Protection Alternative
Glycol is commonly used in hydronic heating systems in cold climates to help prevent freeze damage. Glycol's thick viscosity and low heat transfer characteristics make it costly to operate and maintain. Typically when used, glycol has 5 to 10% higher operating costs than water.
Discover how much glycol is truly costing your facility and build a business case for switching to water protected by Cooney Freeze Block coils.
Free Energy Analysis
How much is glycol really costing you?
Enter your details below to get instant access to the free energy analysis…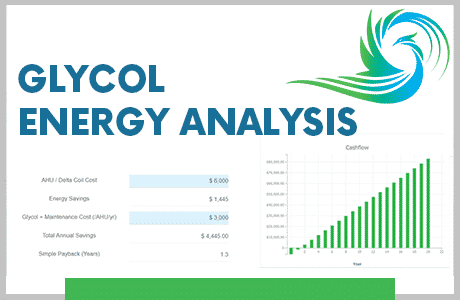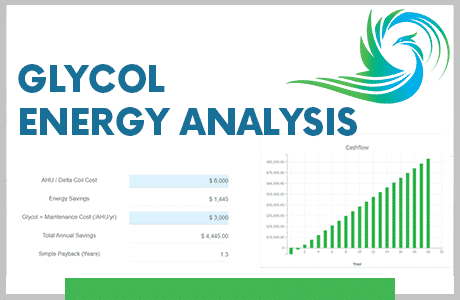 Do You Use Glycol in Your HVAC Systems to Prevent Freeze Damage?
Are you looking for an environmentally-friendly, cost-effective alternative to glycol antifreeze in your HVAC systems? At Cooney Engineered Solutions, we understand the importance of preventing freeze protection in hydronic heating. That is why our Freeze Block Coils are a great green option when it comes to protecting against frigid temperatures.
At Cooney Engineered Solutions, we provide freeze protection solutions for HVAC systems. With our comprehensive knowledge and expertise on all things heat transfer, we can help you determine the most cost-efficient solution that meets your needs. We invite you to take advantage of our energy cost analysis so you can see just how much glycol antifreeze is costing your facility. Our solutions perform better than glycol and also come at an unbeatable price.
When frigid temperatures hit, glycol antifreeze is a go-to fluid to protect your industrial HVAC system against damage. When you're talking large-scale operations, the cost can be pretty steep – not to mention potential maintenance and upkeep. So if you're looking at systems and need reliable protection from freezing temps (below 32 F), you need a better hydronic heating alternative.
You Should Choose Cooney Freeze Block Coils Instead of Glycol
Glycol is often used as a preventative measure against freezing temperatures and coil bursts in hydronic heating systems. While often effective at preventing freeze damage, glycol antifreeze is not without its drawbacks—it can be expensive, difficult to maintain on regular intervals, and if it spills it can cause environmental hazards.
Our Freeze Block Coils provide an excellent alternative to glycol antifreeze for HVAC systems. Our coils are made from a patent design that includes a pressure and temperature relief valve mated to an expansion relief header. This combination allows the coil to sense a freeze event and displace a controlled volume of fluid to drain. When the pressure is released your coils will freeze without rupturing, resulting in an effective freeze protection system that is much less expensive than glycol antifreeze. Additionally, Freeze Block coils require virtually no maintenance and are a safe alternative for the environment, making them more cost effective than glycol systems.
Our Experts Are Here To Help You
At Cooney Engineered Solutions, we're dedicated to providing exceptional customer service and technical assistance. Our team is highly trained in designing personalized solutions that fit the project's needs perfectly, making us a great partner for creating an ideal product tailored to your facility's requirements. We have years of experience in consulting on utilizing water versus glycol , which has allowed us to achieve amazing cost savings with improved performance as well as reduced environmental footprints due to minimized glycol consumption for hydronic heating systems.
Contact Cooney Engineered Solutions for Help With HVAC Systems
If you need help protecting your HVAC system from freezing temperatures with heavy energy penalties, look no further than Cooney Engineered Solutions' Freeze Block Coils! We'll work together with you through every step of the process. We can give you an analysis of energy costs or provide customized quotes for our solutions! Contact us today and explore how much money switching away from a Glycol system cost could save your facility!
looking for more info on glycol?
Contact Us!