Make an Impact This Earth Day With Cooney Engineered Solutions
Earth Day is an important time to remember our collective responsibility: the planet's future depends on the decisions that we make. This Earth Day, be sure to join the fight against climate change by investing in energy-efficient technologies.
Facilities Energy Consumption
Energy waste is a significant issue that facilities managers and engineers must contend with. The environmental impacts of inefficient energy usage are well documented, but the financial implications on a facility's bottom line cannot be overlooked either. Excessive energy use leads to higher utility bills, which can reduce profits and hinder investment in other areas. Facilities managers and engineers must stay abreast of the latest energy-efficient technologies and strategies to combat this issue effectively. Ignoring this problem not only affects the facility's financial health but also contributes to global warming, which we must work together to address.
Energy Savings Tools for Commercial Facilities
Cooney Engineered Solutions is committed to helping engineers and facilities reduce energy consumption. We understand that making the switch to updated technologies can be daunting, which is why we have developed tools to assist with this process. Our Freeze Block coils are a great example; they can help to save energy savings by switching away from glycol systems. Our glycol energy analysis tool is easy-to-use, and the results are clear – potential energy savings and a return on investment. We understand that Earth Day shouldn't be only one day out of the year – it should be a daily commitment to reducing our environmental impact.
Perform a Glycol Energy Analysis
Save money and increase efficiency by performing a glycol energy analysis on your HVAC system! Compare the results with an HVAC system that uses water and Freeze Block coils to protect against freezing temperatures, and see which option is best for you!
Invest in Innovative Solutions to help Fight Climate Change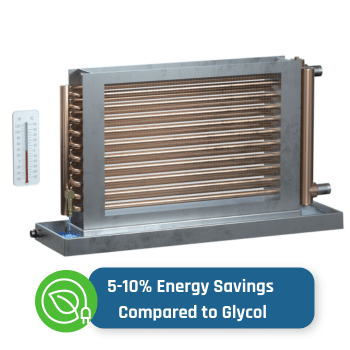 If you're looking to reduce your building's energy consumption and fight climate change, Cooney Engineered Solutions has some innovative solutions to offer. The Cooney Thermo-Pack is a packaged steam-to-water heat exchanger that can help you save up to 15% on energy consumption when compared to a shell & tube heat exchanger. It's an effective solution to reduce your building's thermal footprint. In addition, our Freeze Block™ coils can replace glycol in some cases to increase efficiency and reduce energy costs even further. Contact us today for a free energy analysis and see how much you can save with Cooney Engineered Solutions. Let's work together to build a more sustainable future. 
Long-Term Solutions Reduce Use of Resources and Emissions
Investing in Cooney Engineered Solutions not only ensures you're receiving top-quality, American-made equipment, but also provides cost savings and long-term reliability. At Cooney, we understand the importance of designing and manufacturing equipment that doesn't compromise on quality, durability and performance. Investing in products with high quality and durability can help fight climate change by reducing energy consumption, extending the product's lifespan and decreasing the need for resources to manufacture new products. This will result in less waste and fewer emissions entering our atmosphere. Additionally, purchasing energy-efficient solutions can help reduce emissions and save money in the long term. Together, we can make a real difference this Earth Day!