Ever since its invention, Cooney Freeze Block technology has been a cornerstone of our business at Cooney Technologies. And like all great inventions, it certainly has a fascinating history. Looking back now, almost ten years after starting this journey, we are proud of our legacy.
So here is the story of our proprietary technology from its inception through development, to where we are today.
The History of Freeze Block Technology
During Bob's career as an HVAC and Steam specialist, he often saw the results of HVAC disasters related to ruptured coils. Every time the cold weather of winter came, HVAC coils that weren't prepared for the cold ran the risk of rupturing when the temperature dropped. Even after deploying preventative measures, coils were still freezing and rupturing.
A Facility at Risk
The solution finally came to Bob when a pharmaceutical client called after having coils rupture in multiple air handling units within their R & D campus. These were specialized air handling units designed to operate within the unique requirements of the laboratories. When the coils froze and
subsequently ruptured, the chaos began. The tight tolerances of the air temperature and humidification within the labs were compromised. When the massive flooding followed, the labs–along with years of experiments–were in peril. Luckily, Bob and his team were able to build replacement coils in time. The pain the client felt, along with years of similar experiences with no good solution, became the catalyst for his Freeze Block coil invention.
HVAC Coil Failures
Bob was concerned that HVAC systems could only be protected to a certain point. All the available options to stop the freezing process within the coils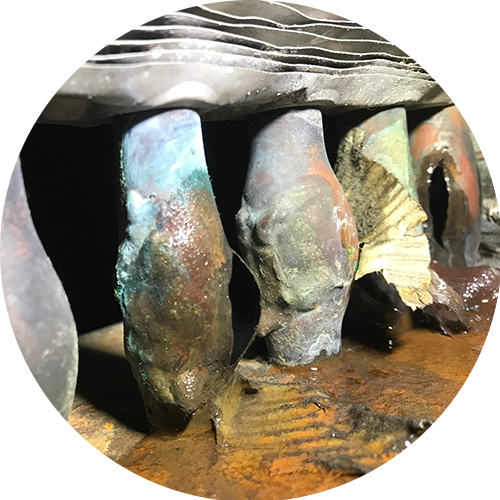 had faults. Bob realized it was futile to try and stop the freezing process. His focus immediately shifted toward stopping the freezing process from damaging the coils.
Simple Solutions to Complex Problems
Bob's Freeze Block solution came in the form of a simple yet revolutionary concept. By uniting all the return bends together with a common header and a very specialized relief valve, Freeze Block Technology was born.
The valve is what really makes Freeze Block special. In order for this method to be effective, the valve has to be able to provide pressure and/or temperate relief. A freeze event that starts in the middle of the coil requires pressure relief, while a freeze event that starts on the outside ends of a coil must have temperature relief. By covering both, you can rest easy knowing that your coils will freeze, but not suffer from damage…we guarantee it!
Design & Testing
Tested over and over again at temperatures far below zero, the system performed flawlessly. With constant tweaking and improvements to the design, Freeze Block technology soon became the object of fascination within the industry. When the final product was released to the market, it was met with great success, and the team is proud to announce that with over thousands of active installations, there has not yet been one system failure.
If you're interested in trying Freeze Block technology on your own HVAC system, or if you would like to learn more, please get in touch with us. We'd be happy to answer any questions you have.