Cooney
Smart Coil
The World's Only Smart HVAC Coil
The Cooney Smart Coil is helping facilities go green, save money and reduce downtime. The Smart Coil integrates with any building automation system to save the HVAC system and its coils from the industry epidemic of freeze damage. It's freakin' awesome.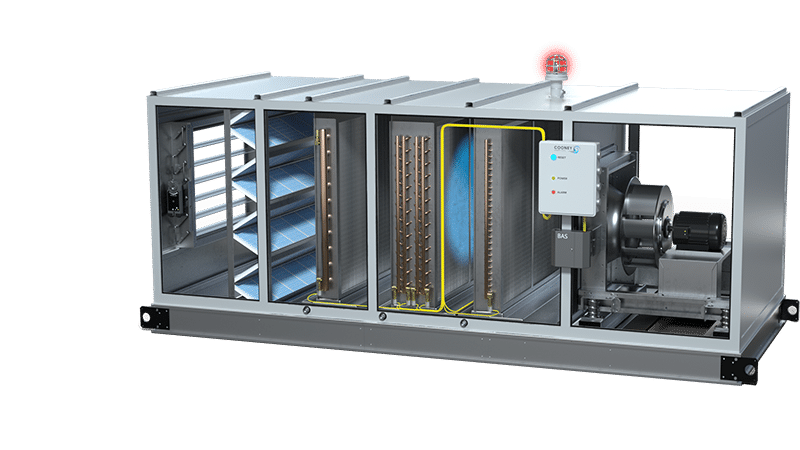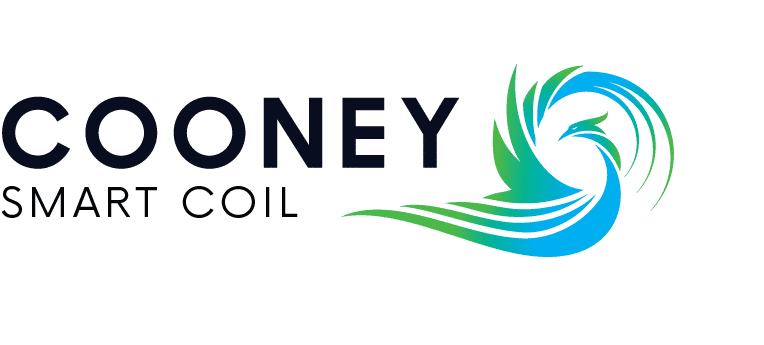 Available for new & existing Freeze Block

™

Coils
Immediate notification of a freezing event in your HVAC System
48-month warranty against freeze-damage on new coils
The sensor can be wired to send a signal to the building automation system and programmed to:

Turn off the fan
Close the outside air dampers
Open a valve or circulating pump
Signal an audio or visual alert at the site or control room
Send an alert to email or cell phone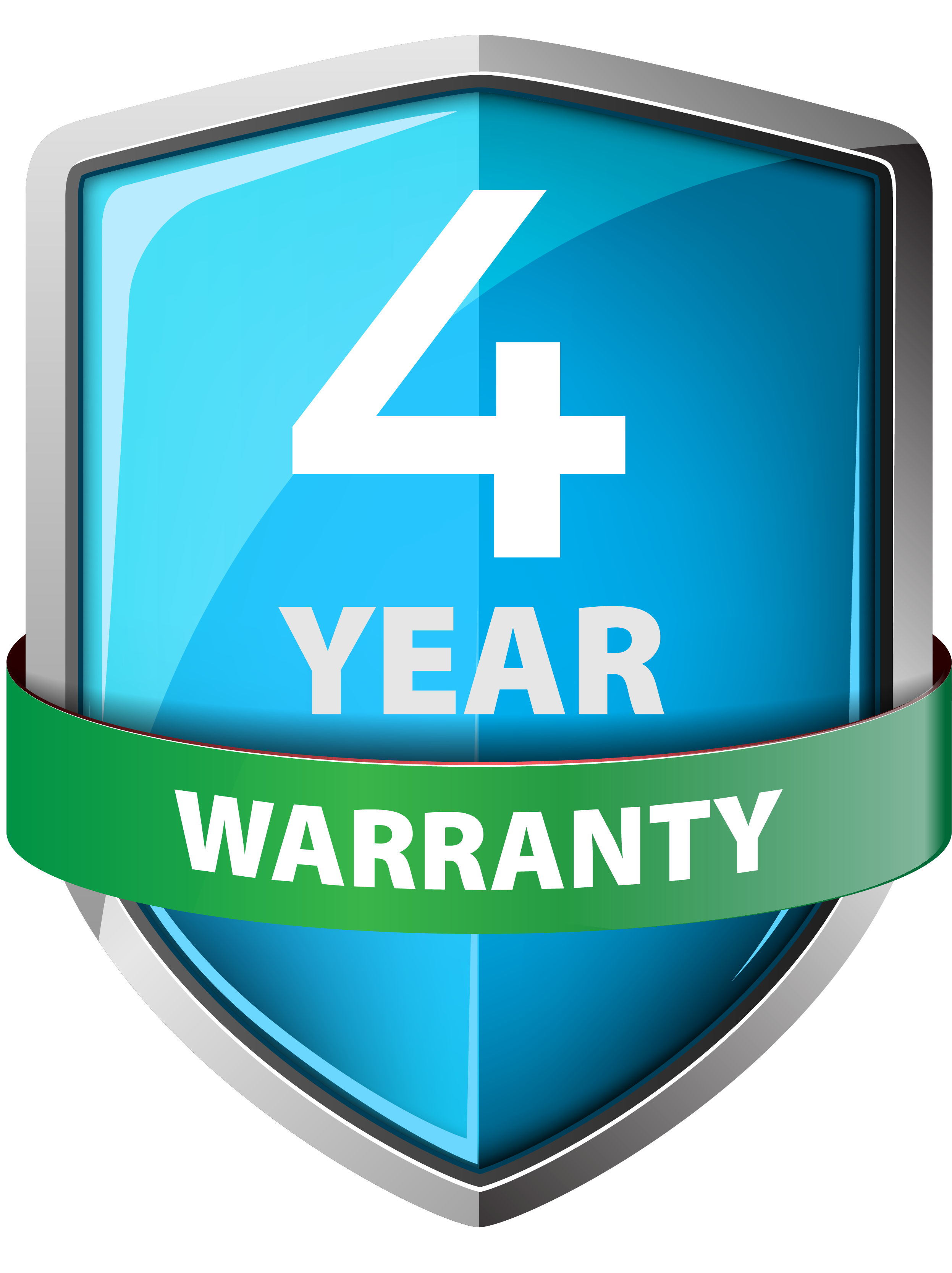 Industry Leading Protection
For the ultimate peace of mind when it comes to your commercial HVAC system, the Smart Coil is here to help. With Smart Coil's industry-leading 48-month warranty, you can rest assured that your coils are protected no matter what the temperature is outside.
As a facility manager, you'll never have to worry about costly repairs or unexpected breakdowns again. So don't wait any longer – protect your coils from freeze damage today with the Cooney Smart Coil!
Available for new or existing Freeze Block Coils
Freeze Alert Kit can be tied into building automation system for proactive freeze protection.
Provides immediate notification of freezing events in your HVAC system
Includes a 48-month warranty against freeze-damage on new coils
Equipped with a sensor that can be wired to send signals to the building automation system

Sensor can be programmed to turn off the fan, close outside air dampers, and open a valve or circulating pump
Capable of signaling audio or visual alerts at the site or control room
Offers the option to send alerts to email or cell phone for prompt action
Certified in accordance with AHRI Force-Circulation Air-Cooling and Air-Heating Coils Certification Program which is based on AHRI Standard 410 within the Range of Standard Rating Conditions listed in Table 1 of the Standard. Certified units may be found in the AHRI Directory at www.ahridirectory.com
HVAC coils are vulnerable to freezing during cold winter months. Fortunately, there is a variety of strategies and technologies available for protecting them. Learn more about the best options to protect your HVAC system from freezing. Don't let your HVAC coils freeze this winter – take action now!
read more
Miller Industries & Cooney team up to provide custom AHUs with Freeze Block and Smart Coil Technology to a large automotive manufacturer in Michigan. Learn more about the project.
read more
Learn the basics of how to measure an HVAC coil. Evan Jones walks you through the steps for measuring a replacement coil and gives you a few helpful tips along the way.
read more
Frequently Asked Questions
Is there a recommended sequence of operations?
We recommend the following:
+ Shut the fan down
+ Close the outdoor air dampers
+ Turn on the preheat coil (steam, hot water, or electric)
+ Turn on chilled water circulation pump (where applicable)
+ Send an alarm to Building Management System and personnel
Will we get nuisance alarms with Smart Coil technology?
The system is designed so that the only time this should alarm would be if the coils have frozen or are dangerously close to freezing. This is typically far outside of the design operating conditions of the air handler.
How do I pair this with my building automation system?
There are two options for output on the control board:
1.) Normally Open
2.) Normally Closed
Depending on your building management system, one of the options will be utilized to report the alarm.
Can I retrofit Smart Coil technology?
You absolutely can make your existing Freeze Block coils "smart" by adding the smart coil system. We will ship you a new generation freeze block valve (if needed), control box, clips, and wiring for retrofitting. If you do not have a Freeze Block coil, you'll need to purchase a Freeze Block coil along with the Smart Coil system.
Can I use Freeze Block Coils + Smart Coil in a unit ventilator?
Yes! Learn more about Smart Coils specially engineered for unit ventilators here.
Will the sensor pick up condensation when used on a chilled water coil?
No. The adapter clip is designed to shed water in a way that will only allow the sensor to know when a valve discharges.
How many sensors can be utilized with a single control box?
Is the control box rated for outdoor use?
Yes, the control box is a NEMA 4 enclosure and can be used outdoors.
Are the sensor cables rated for use in Air Handlers?
Yes, they are rated for AHU use under UL 2464.
How long are the sensor wires?
Each sensor lead comes with 50 feet of wire.
Can I use Smart Coil in a classroom unit ventilator?
Yes! Unit Ventilators with Cooney Smart Coil Technology are the most reliable way to keep classrooms comfortable year-round without sacrificing performance.
Send Us a Message
Have a question or need some more information? Drop us a message and we'll get back to you!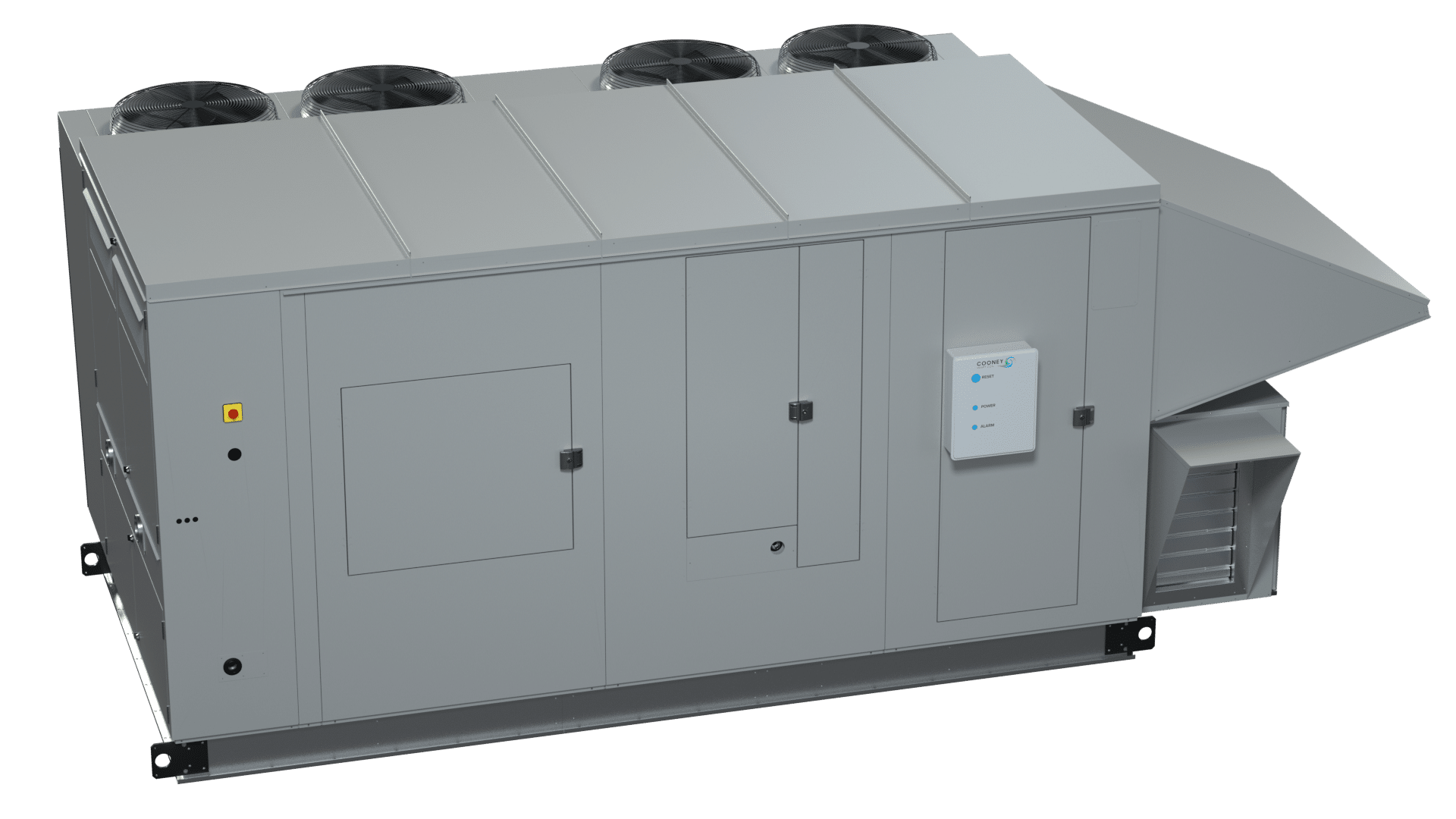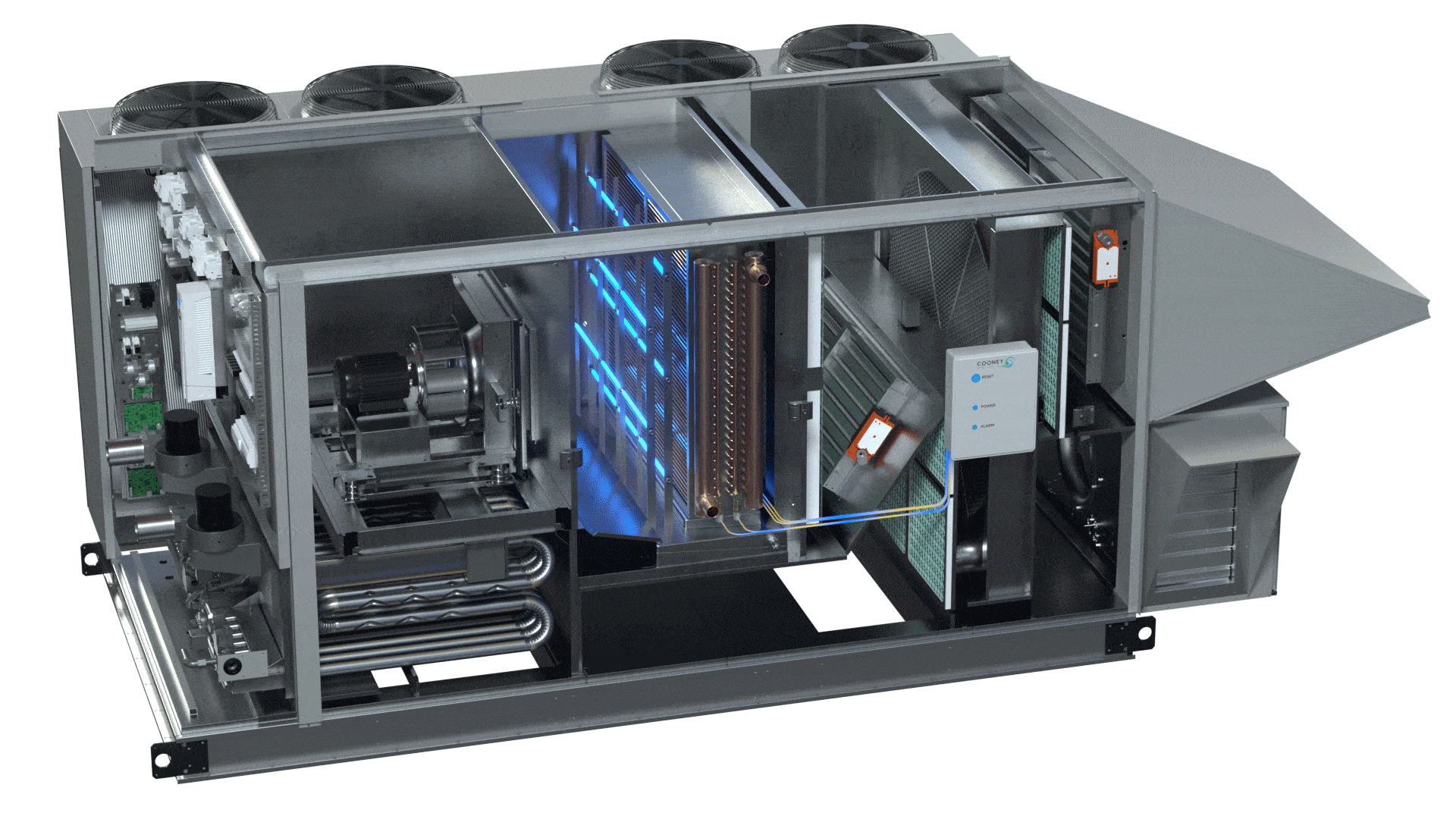 Protect Vulnerable HVAC Coils
ASHRAE's COVID mitigation strategies include using more outside air and increase air turnovers. Is your facility prepared to face freezing conditions?
The Cooney Smart Coil System can help to protect your most vulnerable steam and fluid coils with 24/7 remote monitoring. Get notified instantly through the building automation system when potential issues occur.
Contact Cooney Engineered Solutions for Help With HVAC Systems
It is essential for your HVAC system to operate efficiently. At Cooney Engineered Solutions, our engineers have crafted innovative solutions to your most complicated HVAC needs. Our educated staff will gladly answer any queries about our products and make the best recommendation to remedy your problem. Get in touch with us today to learn more about our smart HVAC coil.
The Best HVAC Monitoring System for Cold Climates
When it comes to keeping your HVAC running smoothly in cold climates, look no further than Cooney Engineered Solutions. Our Smart Coil technology is designed to protect your coils from freeze damage by working with your Building Automation System (BAS). Our freeze alert devices come with a 48-month warranty, so you can be confident that your system is protected even in freezing temperatures.
When paired with our Freeze Block Coils, the Smart Coil system offers 24/7 monitoring for your HVAC system with alert notifications of freezing events. Because of its ability to integrate with your BAS, potential maintenance issues can be identified quickly. Addressing and solving issues as soon as they're identified reduces expensive downtime or equipment failure commonly associated with traditional freeze-stat devices.
You can't control cold climates, but you can protect your HVAC system by investing in the best rupture and practically freeze-proof coils on the market. Equip your business with our smart HVAC coil for high level protection, reduced maintenance, and minimal downtime.
Why Cooney Smart Coils Are a Better Option Than Freeze-Stat Devices
Cooney Smart Coils are the best choice for superior building protection and long-term HVAC performance. Similar to freeze-stat devices, our smart HVAC coils function as a freeze alert system and can be integrated with the building automation system to protect your facility. When the Freeze Block Coil valve deploys fluid, the Smart Coil can prevent further damage to the HVAC system by shutting down the fan and closing the outside air dampers. Unlike freeze-stat, Smart Coil will only alarm when the Freeze Block Coil deploys over the sensor. This smart system results in fewer tripping issues, nuisance alarms, and facility downtime, making it the optimal choice in coils for classroom unit ventilators, pharmaceutical research labs, universities, and other commercial buildings.
Protect Your Coils From Freeze Damage!
Keep your coils safe from freeze damage with the Cooney Smart Coil. This innovative device monitors Freeze Block Coils 24/7 and can send alert notifications directly to facilities personnel's devices when freezing occurs. If there is an issue with a freezing coil, you will get alerted right away and avoid preventable tripping problems.
Don't wait until disaster strikes. Get proactive protection today and forget about worries over costly repairs and downtime. Reach out to Cooney Engineered Solutions for more information on how our advanced technology can help safeguard your coils this winter season!
request a quote
Make Your HVAC
Coils Smart Today!