Michigan New Equipment Representative: MIR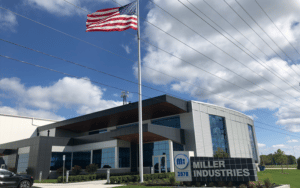 Headquartered in Fenton, MI, holding company Miller Industries has over 100,000 square feet of manufacturing space dedicated to its five companies (Flex Air, MIR, MiFarmPod, Pfab (Structural Steel), and MI Service Group). These organizations work together to help further Miller Industries' mission to exceed customers' expectations by providing the highest quality HVAC products and systems coupled with the best support and technical expertise available in the industry.  
Miller Industries Representatives (MIR) is Cooney Engineered Solution's premier New Equipment representative in Michigan. This unique CES representative does it all, from providing cutting-edge HVAC technologies and products to building custom modular HVAC and AHU systems. 
A Successful Partnership
Cooney Engineered Solutions & MIR have been partners since 2017. Working on various projects in the automotive, healthcare, and higher education industries. Most recently, the two have teamed up to help deliver 54 custom AHUs with freeze protection for a large automotive manufacturer in Michigan.
Location
Metro Detroit, Michigan
Background
Miller Industries has been a trusted partner to large automotive manufacturers and was tasked with building a total of 54 AHUs for a manufacturer's expansion outside of Detroit, Michigan.
Total of 54 AHUs:
35 Outdoor Units HW & CHW Cooney Freeze Block Coils & Smart Coil Systems

19 Indoor units HW & CHW Coils with Energy Recovery Coils
Challenge 
Freeze Protection Alternative to Glycol: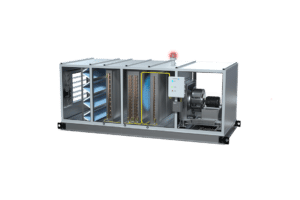 The outdoor air handling units pose a significant risk of freezing coils when 
exposed to the cold air in the Detroit winter. Glycol was historically used as an antifreeze to protect HVAC coils in these cold climates. However, the lack of efficiency and high cost of operating glycol did not fit into the manufactures green initiative and energy goals.
Solution
Efficient & Reliable Freeze Protection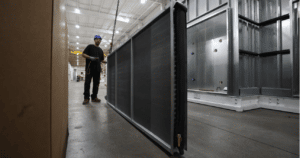 The engineering team sought a solution to eliminate glycol in order to increase efficiency. As a result, all hot water and chilled water coils on the outdoor AHUs have Freeze Block Technology installed and utilize water. This patented technology allows the coils to freeze without rupturing, while the Smart Coil system monitors when freezing events occur and triggers the building automation system to run a sequence of events to save the system from damage.
Learn More About Our Solutions
Through our partnerships with top rep firms throughout the country, we solve heating and cooling challenges with our innovative technologies and creative solutions.